How Lloyds Banking Group Change Managers helped to 'Make a Difference':
On Friday 13th June, a group of London GCM from Lloyds volunteered their Day to Make a Difference and descended on the Natural History Museum in Central London.
Focussing on tiny worlds, one group worked with Jovita and Edgley to help digitise our Thomas Comber diatom collection. Another group took part in a learning workshop to sort and identify microscopic sand shell samples (i.e. foraminifera).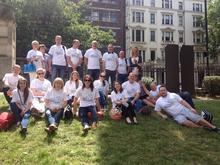 Thank you to Pete and Faye for making this event happen and everyone who took part on the day -we greatly enjoyed hosting you and look forward to a further M.A.D day later in the year!